Our team is available to assist with all your water damage remediation needs in Fort Worth Texas and surrounding areas, providing services for both residential and commercial properties.
Our water damage restoration specialists can quickly get your home or business back up and running. Contact us now for more information about our services, or request a free estimate.
Our Water Damage Remediation Services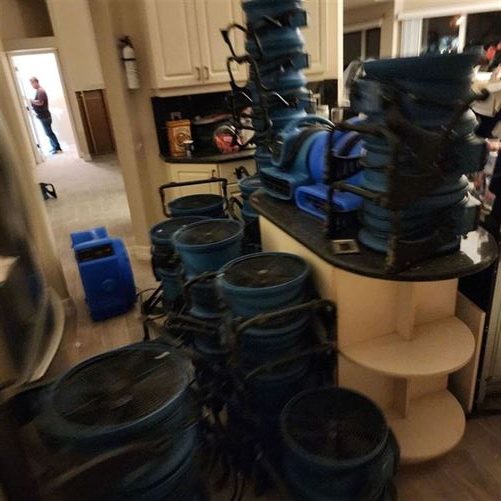 Water damage remediation can be a huge undertaking, particularly when it comes to your home or business. Whether there has been flooding due to a pipe burst or leaky plumbing system, rain storm, or other disasters, it's critical that you act quickly in order to minimize permanent harm and restore your premises.
Mold is a prevalent issue that often comes with water damage that necessitates professional cleaning and restoration services. Water Damage Restoration Fort Worth's team is well-trained and highly experienced in mold removal, abatement (to stop growth), mitigation, as well as repair services.
Our water cleanup services are available to both residential and commercial property owners. Our technicians collaborate to clean up affected areas and restore homes back to their pre-loss condition using various tools such as wet/dry vacuums, fans, dehumidifiers, and cleaning supplies – all with the goal of restoring your property back to its former glory. Furthermore, we offer repair services for both visible and invisible damages caused by flooding.
Residential Water Damage Remediation Fort Worth
Water damage can be a devastating issue, whether due to a natural disaster or a plumbing system malfunction. Not only does it cause extensive structural harm but it makes life difficult for everyone involved.
To restore your home to pre-flood condition, you need to hire an experienced and professional team of specialists like us who have all the necessary tools for proper water cleanup and drying out your property. We can quickly go to your property and can happily provide a free estimate for our services.
Finding the ideal residential water damage remediation team requires research on your part and checking reviews from real homeowners who have used similar services before. You'll be glad to know that we have such reviews!
Commercial Water Damage Remediation Fort Worth
Water damage is an unfortunately common occurrence and without a proactive plan in place, things can quickly spiral out of control. That is why we provide commercial water damage remediation services to restore your property back to its pre-loss condition as quickly as possible. Our team of professionals is well-trained in cleaning up and restoring water-damaged properties back to their former glory.
We've been helping commercial property owners for decades with our efficient processes to get their buildings properly cleaned, dried, and disinfected in no time. Plus, our detailed water damage restoration plans can be used to help prevent future flooding or water damage. Contact us now to book a consultation for water damage restoration; we'll show you the best way to save your property while giving you peace of mind. Our friendly staff is also happy to answer any queries that arise along the way.
Call Us Now For Your Free Estimate!
After experiencing flood or storm damage, it's essential to act swiftly. Not only will this save time and money, but it will minimize the extent of the destruction as well as prevent additional issues in the future.
At any time, our expert Fort Worth water damage restoration services can be tailored to fit your home or business's specific needs. Contact us now to learn more about our offerings and how we can assist you.
Water Damage Restoration Fort Worth
324 Greenleaf St, Fort Worth, TX 76107
(817) 502-9355